Archive for the 'News Research' Category
It has been unseasonably cold and rainy the past couple of days, so I thought I would tackle a little history project I have wanted to write about regarding a particular little penny press newspaper.  
As of January 2012, The New York Times raised its daily price to $2.50! Think back to the penny press at the turn of the last century, have you ever wondered what such a paper would cost today, inflation adjusted? Answer: a quarter (Source Article: (Jeff Jarvis). The picture to the left is a copy of an original penny press newspaper which I own and bought in the south of France, in 1994.   I had just completed my public relations degree and was studying the French language in Aix-en Provence.  At the time, I considered not bringing the two antique newspapers with me because I and my two children were carrying backpacks and only one small rolling bag. I was afraid of damaging it on the flight back to the United States. I am so glad that I chose to hand carry it and it survived.
In the 1880′s, this newspaper only cost a penny! The original historic art print alone is priceless, in my humble opinion. Journalism has been a career thread which has run in our family, but I did not know that when I started my course work.  I only learned of it later from my father once I began taking journalism courses during the second year during my undergraduate work.   My grandmother, Edith Faulstich was a Philatelic journalist.  Below is a short list regarding some of her writing history:
1)'Newark Sunday News' for 26 year (Nov. 24, 1946–1972)
2)'The Record", Hackensack, New Jersey ( 1961–1966)
3) 'Bergen Evening Record" (January 16, 1922 -Sept 14, 1968)
Faulstich was also editor of: (see publication source addresses here)
4) 'Postal History Journal' from May 1957 (Vol.1. No.1) to 1967
5) 'Western Stamp Collector'
6)'Covers', and
7)'The Essay-Proof Journal'
But, I digress a bit. As this is post is about this specific Penny Press newspaper from France.
The " Little Diary "is one of the oldest newspapers in France. It began publication in 1863 and the creation should be considered as one of the events most deeply embedded into the life of Parisians of yesteryear. In the history of the press, that is more that a mere episode, that is the memorable date of a revolution, not only in journalism but in social manners.
The present generation can not imagine what newspaper industry was like before the appearance of the five cent newspaper. This popular newspaper brought it within the reach of every budget in France.  But, it was also during a time when the press did not enjoy any freedom of the Press.
Legislators had made it suspicious  and was newspapers were relegated extensively.  The Government of the day placed heavy bonds; censorship, jealous watching  of publishers -very closely, and with the slightest hint of criticism, the slightest allusion to political bashing, heavy fines fell upon the publisher as thick as hail; to recidivism, that was the prohibition of the times. The prohibition of free speech, in France.
As a result it is enough to say that the masses of people, workers, employees, petty bourgeois were condemned not to read newspapers. The wealthy themselves are looked at twice before they subscribed to a newspaper. Some would only read the newspaper reading room, on the others' subscriptions when they heard of their neighbors  taking out a subscription to one of the largest newspapers of Paris.
Millaud had, by way of creating the Little Diary, other intentions. Rather, to give each person an every day look at life, an echo of national life: information, news story, inspired by the chronic current events, talks about the theater, variety, novels, but no politics! The Government Policy, that was then certain death. And news had to live. The Diary lived indeed.
~ Jean Lecocq. (Almanac 1940)
Le Petit Journal (Journal was sold for a penny: 5 centimes) on 1-2-1863 was created by Moses (said Polydore) Millaud, non-political and therefore not stamped, at half-size, consisting originally of four pages, eight pages as of 1898 and six in 1901.
The aim was to attract the maximum number of subscriptions and to attract advertising. The dominant strategy was to sell at the lowest possible price. In 1863, Moses Polydore Millaud widely publicized "Le Petit Journal" and is the first French newspaper whose strategy was to create access based on the sensational. The selling price was also low in order to make it a popular newspaper, for everyone.
For failing to pay the stamp (5 cents per issue) that made the business impossible, the newspaper was apolitical. The authorities of the Second Empire favored the development of this cheap sheet and its competitors.
After September 4, 1870, with the stamp removed, Le Petit Journal was able to talk politics.
Despite some crises – in 1870, more than 400,000 copies were sold, and in 1892, one million copies.
Girardin took control in 1873. In 1937, it drew more than 150,000 copies when it became the organ of the Social français.
Replié in Clermont-Ferrand in June 1940, Le Petit Journal lived, poorly, until 1944, during which time he/it received a monthly grant from the Vichy government. Schedules of weekly publications, the most famous was his Supplement illustrated in color, whose images offered a picturesque example of the sights and popular ideology of the century.
The success of this penny newspaper caused a surge in a new type of periodicals (eg the Petit Parisien. Le Petit Parisien founded by Louis Andrieux, 1879, the first No. 16-10-1870.
The press has, throughout of 19 th century, evolved according to its industries and new technical possibilities. After the 1881 Act and during the 1890s, the press was still characterized by diversity, each with its French newspaper owner.
At the end of the century, the ground was laid, for the crisis that will soon shake the country: newspapers become a real power of the people.
Printed on the rotary machine chrono-type Marinoni
The Diary, in those heroic days, had not his print to it. No one knew yet that a single printing process: the draw that flat n 'impressed that a copy of four pages at once and, because of the slowness s' did the work, inevitably it restricted the paper's circulation. Readers soon answered so many of the calls, that the printing Serrière declared himself unable to drasw enough alone.
It was therefore necessary to provide for the best merchants at the time, and use multiple printers. However, printing at that time, was not a free industry. We had to open one, buy a patent, and patents, whose numbers were limited, were in the hands of the printers who guarded them jealously and shared customers by various specialties: Books, newspapers, catalogs, paperwork , etc.. Newspaper printing was grouped around the Grange-boat-and growing. One of the busiest was the printing Schiller, 10 and 11, Faubourg Montmartre: it was responsible for some of the copies of Diary.
The First Rotary Press
Hippolyte Marinoni could have been, in the words then of a spiritual writer, "a romantic hero for his own newspaper" The son of a policeman of Corsican origin, he had in his childhood, kept cattle. And, he was far from being ashamed of his humble origin. Marinoni was a laborer in a factory of hand presses and type-founder.
Finally, in 1872, he realized the extraordinary invention of the rotary press with automatic feeder and continuous paper, regularly pulling 40,000 copies per hour. Some years after, he built the great Marinoni rotary multicolor printing press, which churned out 20,000 copies from a single shot in six colors, which were printed as illustrated publications, succédanées of Petite Journal, including the  Illustrated Diary , which were hand drawn, once a week, and printed up to twelve hundred thousand copies.
History of How the "Little Illustrated Journal" was Published
(Imperfectly Translated from French).  The Department of this newspaper asked its readers to stay in close communion and this wish was fulfilled for a longtime as a result of the huge number of letters received,  offering approval and very sincere encouragement. Therefore, we thought it would be nice to keep the paper alive, showing a little of thier lives, and the succession of different yet consistent efforts, necessary for the manufacture of a newspaper, and to penetrate deep Behind the Scenes – dare I say – of a large illustrated weekly like ours. 
 Here, as elsewhere, the division of labor was required. Above all, who is the Director, based on experience and knowledge to satisfy the public, giving directions to follow and supervise its execution. Under him, the writing service, editor, general secretary, implements and oversaw that her designs are shown.  Thus, each week, the Director took care of the editorial materials, which would form the number for the following week. These materials were of two kinds: first, what is known in terms of the business, the "copy", that is to say, articles and stories, then the illustrations, including drawings and photographs. 
It was very delicate work back then, not only because it had to please the greatest number of readers, because everyone did not have the same tastes, but also because it had to be interesting to follow the news. News was and still is fleeting. What is interesting one day may no longer be the week after. But the manufacture of a weekly is infinitely longer than a day. We may at any time be too late. 
The materials were gathered into the hands of the editor. It then went immediately to the internal executing agencies.  The "copy" first, was sent to he service composition without review. Previously, they couldn't  ignore it, because they knew that the composition of type had to be done by hand. The characters, distributed into the type compartments with lead  "breaks", for each and every line of news which was laid out one by one, all by hand by a worker who formed lines. It was very time consuming labor.
 "Today", much has been simplified and enables this work to be completed by using machines called linotypes. These have a linotype keyboard not unlike that of typewriters. Just to the operator – which is often an operator – to press each key on the keyboard so that the matrix of the corresponding letter comes down in a compartment intended for receiving. When the line is complete, a single shot lever activates the machine. The set of matrices is shown in the orifice of a home with molten lead. The result is a small tablet which bears on one of its edges, the embossed characters of the entire line. Matrices are automatically removed and distributed into the store from which they emerge, again, then the operator presses the corresponding key. 
Just as there were typists more skillful than others, there were also more skilled operators. On average, a good operator dialed 6,000 letters, 150 lines per hour.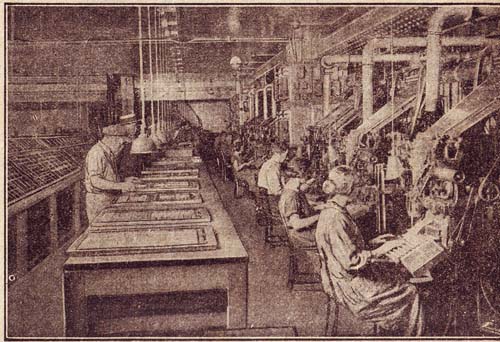 The picture to the left is titled" Component of youth operators for creating   newspaper articles sitting at the linotype machine"
When an entire article or a story was composed, we made a test by passing over the surface of the thick ink, and then laying on top of it a sheet of paper and hitting it with a big brush. The test thus obtained wass assigned to a grader, who read the test "copy" and pointed out errors in the composition. Errors were corrected to the linotype by redoing the entire line.
Only the titles were still made with movable type, one by one by hand. It was the beginning of the use of making specialized headlines.
***
Meanwhile, the illustrations are processed by the photo etching. The illustrations were created in black ink and photographs are reproduced by a process, common in those days, whose origins date back to Talbot's invention in 1852 . 
For the longest time, it' is true that we only knew of the woodcut pictures which were only created and obtained by arduous manual labor from an artist, sculpting virtually on a board of boxwood and engraving it, chiseling the art worked well.  Thanks to an ingenious use of photography, they mechanically reproduced art on zinc or copper plates for the illustrations for the newspaper. 
The process is similar, though more delicate and complicated for large color compositions, which were located on the first and last page of the Illustrated Diary. Note, however, we had a need to get as many pictures as there were colors in the universe. For black, blue, yellow and red, that's four shots that would be later set on the press and on which turned the white paper into colorful art.  Four colors, you say! But there were more than four colors in the prints that illustrated the newspaper? No doubt, but the green is obtained by superposition of blue and yellow and other colors by layering the same kind.
***
And they met the "copy" and illustrations clichés. Then begins the work of layout.  This job runs on large tables that, for a very old tradition, we continue to call "home plate". Under the supervision of Secretary of writing which indicates the position of articles and photographs, these are arranged in forms or large cast iron frames that tightly clasp. When this work is completed, it is, the content of each form, a race named special "morass." The morasses are revised by the corrector, which seeks to track the latest faults are forgotten or layout errors.Then the editor examines in turn and, if it has no comment to make, given the right to shoot.
If we drew on hardware platforms, we could immediately bring these forms to the printer. But everyone knows that more these days, are used for rotating the huge prints of the great modern newspapers. Transformative work is still needed. He runs to the stereotype.  There, introduced forms are placed in a special machine that molds them on a print taken by a kind of wide paper carton hurry. This blank, it curves to give the exact shape corresponding to the rotating rollers. Finally, each blank, and curved, is used to make one or more curved, and it is these images, the result of a sequence of transformations, which will finally get the newspaper.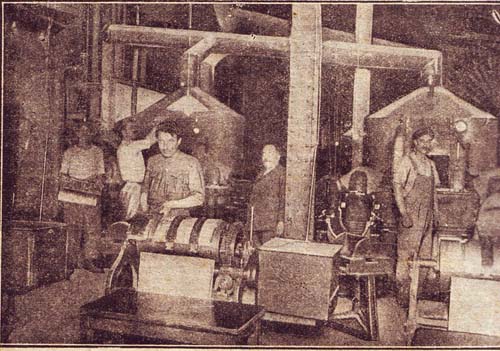 The stereotype where the forms are used to make cylindrical clichés, is noted to the right. Now, this is the last part of whee the job execution begins on one of those admirable rotating machines in which the invention is due to Hippolyte Marinoni, both creator of modern printing and for many years director of the Petit Journal.
Under the orders of the chief driver, snapshots from the stereotype are set on the rollers of the machine and the big roll of paper begins to unfold its leaves through the endless maze of wheels, connecting rods and countless bodies of steel.
Despite the appearance, start-up demand meticulous care. Because of the four different inks used for color prints, you must engage in a very delicate work of identification. We must also adjust the pressure on the plates and the arrival of the inks so that the text is neither too gray or too dark. Finally everything is ready, after many hours of experience and tests. The great "roto" starts to devour the paper at full speed and make it in the form of copies printed, folded, cut, such that we can finally see, a few days later, in depositories and in newsagents all over France.
It will be appreciated by comparing two numbers, the benefits of rotary flat on the machine, it once drew an average of 2,000 sheets per day. The rotary Illustrated Diary , though less rapid than that of a newspaper, printed only in black, delivers 10,000 copies per hour. - R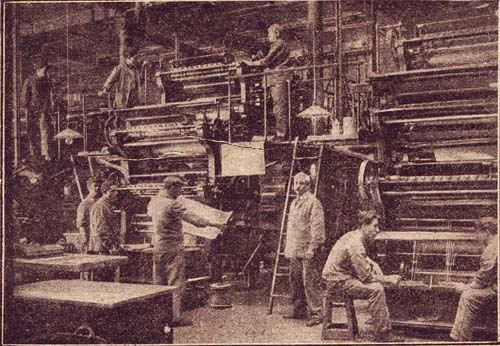 The presses were used every week to get the 'Petit Journal Illustrated and printed for circulation"  
Thanks for reading about the history of this newspaper from 1894. If you have any tidbits of history to add or comments about the paper, or the history of the penny press I would welcome insights and additional information.
Now, onto finding out the history of my other little French newspaper printed March 1891, Le Soleil du Dimanche, all 16 pages!
 How to Find Old Newspapers Online
With the impending death of paper, U.S. Post Offices and the decline of Newspapers, I have begun performing some preliminary research regarding one of two French newspapers I bought in a little book store in the south of France during my study abroad in 1994. I am beginning with  "Le Soleil du Dimanche."  It is rather difficult learn anything about the history of this illustrative journal. I came across a list of newspaper resources and thought it might be useful to others. Once I find the scoop on this little 16 pager and Le Petite Journal, both printed in March 1891.
The Most Requested Newspapers
• The Herald Sun  • The London Times  • The NY Times  • NC State Library Newspaper Project                                                      •  The Raleigh News & Observer  • USA Today  • The Wall Street Journal  • The Washington Post
North Carolina Community Newspapers
• NC Community Newspapers • America's Newspapers: NC
Lists of Online Newspapers Worldwide
1891, 19th Century Newspapers, Alice Fisher, Alice M. Fisher, antique newspapers, Finding old newspapers, French News Papers, international newspapers, Journalism, Journalism History, Le Soleil du Dimanche, Les Journaux Francais, list of newspapers, March 1891, Media, media relations, News, News from 1891, Newspaper Archives, old newspapers, Press, Presse, World Newspaper Archive
 There are several decent news search engines on the Web, and some of them are listed below. A news search regularly includes visits to some of the major newspapers on the Internet, as well as various news aggregators — i.e. sites that gather and aggregate news headlines and summaries from other sites (see for instance Google News and Topix).
There are so many online sources. But I thought I would present a few new comers that may be of interest and timely.
1. Remember MC Hammer?
Now, wait a minute, I know that his music is not quite so timely anymore but on October 21, 2011, MC Hammer plans to launch search engine WireDoo to rival Google …  The '90s rapper, whose name is Stanley Kirk Burrell, is planning to launch a search engine called WireDoo. So, what are your thoughts about this latest development? How will it be any different?  And, why do we need two of the same thing?
2. And for another development there is FeedBooster, which is a tool for real news junkies . RSS is such a powerful technology yet most RSS readers are not very powerful tools. Search start up Q-sensei delivers powerful enterprise solutions. Part of that power can be felt in their consumer end product FeedBooster, an RSS tool with powerful search and filtering capabilities.  FeedBooster provides you with more than just a list of feed items. Feeds imported into FeedBooster are pre-processed in a way that makes it easier to search, browse and explore them. FeedBooster doubles as a dynamic archive and knowledge tool to mine for information. Here's how it works. You can sign in with Google, Facebook or OpenID. If you sign in with Google, it is easy to import your feeds from Google Reader. You can also add pre-defined feed sets on popular topics or add your own favorite feeds.
3. Pandia News Finder, Visit Pandia Radio Search for a list of online radio stations with news coverage.
4. And, then there is Mool.com which searches within over 4,500 broadcast media, newspapers, & national magazine websites
6. Social Mention.
For the best analytical data,
Social Mention
 is tough to beat, providing lists of related keywords, hash tags, and social media sources for its list of results. At the top left corner there are several metrics provided that will help you determine where your brand is positioned on social media. The "Strength" number indicates the likelihood that your brand is being discussed. The "Passion" and "Sentiment" numbers indicate the nature of the comments and how engaged users are in their discussions. Lastly, the "Reach" calculation will tell you how much influence these users have. The interface is clean and easy to customize once you start working with it, especially if you want to limit your search to a particular social media site. If you want to work on the go, you can set up e-mail notifications for particular terms and download spreadsheets for your search results.
 7. And, then there is the compiled list below of other Media/News Research and Search sources which may also be helpful when performing news related searches or news research.
Other News Search Sites to Dig Just a Little Deeper
International News Search Sources
Abyz News Links  A location based guide to news sources from around the world. Primarily composed of newspapers but also includes broadcast stations, Internet services, magazines, and press agencies
Alternative Press Center  Dedicated to providing access to and increasing public awareness of the alternative press. The Alternative Press Center (APC) is a non-profit collective dedicated to providing access to and increasing public awareness of the alternative press. Founded in 1969, it remains one of the oldest self-sustaining alternative media institutions in the United States.
A-Znewsfile A UK reference guide to online newspapers, mangazines and journals – with independently researched reviews.
International Business Times– Fine source for global business news, with several country-based international editions available, in the respective languages.
ELibrary Research  Search magazines, books, newspapers, pictures, maps and TV and radio scripts.
International Herald Tribune This is excellent news source from Paris mastheads itself as "the global edition of the New York Times."
Inter Press Service– World news stressing developing countries, from a "global news agency producing independent news and analysis about events and global processes affecting the economic, social and political development of peoples and nations, especially in the [global] South." Focus of the site is on civil society and the South, development issues, globalization, and those excluded from it.
Le Monde Diplomatique– World-renown French language newspaper; this link is to the English-language edition with searchable archives.
MagPortal.com Search engine for finding free online magazine articles on diverse topics.
Mpeg-Search.com – Global Media Search Engine  Nation, world, technology and Washington area news 
News Directory English-language media online – over 8,400 magazines and newspapers worldwide
Newspapers.com Provides an easy to use tool for finding the world's newspapers
New Europe– "The European weekly, published since 1993, is a unique product carrying news and analyses from 49 countries with a particular emphasis on the EU institutions and EU-World relations."
Newslookup.com – News Lookup Service
New York Times– Fine international section. Site features a free searchable archive of full-text NYT news items back to 1851. Note the Times College Web Site with features (some international) for students and faculty.

Overseas Security Advisory Council– From the U.S. Department of State, advisories on security-related issues around the world including "Travel Advisories, Public Announcements, daily security related news articles, overseas reports on security and crime incidents, terrorist group profiles, significant anniversary dates, general crime information for cities and countries, locations and contacts at U.S. posts overseas, and updates on new or unusual situations."
PenguinRadio Over 5,000 online radion stations from around the world
Real Time Search – Social Mention
Total News
 TotalNEWS is a search engine and directory of news sites designed to increase your access to information
Radio Free Europe/Radio Liberty– "Daily report of developments in Eastern Europe, Russia, the Caucasus and Central Asia, based on news gathered by the correspondents, services and regional specialists of Radio Free Europe/Radio Liberty," whose mission is "to provide uncensored news and information to countries where a free press is either banned by the government or not fully established."
Reuters– Top world and business news stories from this prestigious agency.
Voice of America News– News and special reports, printed and audio (in scores of languages), from this U.S. government international service.
 World Wide Internet TV– Searchable website catalogs and links thousands of online TV stations worldwide by country and type of programming. "Your portal to watch live and on demand online television broadcasts."
Wall Street Journal– The world famous Dow Jones business and finance newspaper, online. Includes special editions for the World, Europe, Asia, and India.
Washington Post World Section– With regional news pages, and searchable by countries, topics, or keywords. Also check out the Search the World page for access by country and other features. Note the interactive PostGlobal feature, "an experiment in global, collaborative journalism, a running discussion of important issues among dozens of the world's best-known editors and writers. It aims to create a truly global dialogue, drawing on independent journalists in the countries where news is happening."
Watching America– "Discover What the World Thinks About U.S." with English language translations of foreign press commentary about the United States and its foreign policy, from around the world and with links to the original sources.
Worldpress– "Nonpartisan magazine whose mission is to foster the international exchange of perspectives and information. It contains articles reprinted from the press outside the United States, as well as originally written material… Drawing upon publications around the globe, and a network of correspondents in dozens of countries… provides an understanding of the information that shapes opinions and views in other societies.